People involved in businesses like e-commerce, social media marketing, affiliate marketing, data crawling, advertising, game studios, etc. no longer use traditional browsers; most opt for anti-detect browsers. Why is this?
Today, we will discuss why anti-detect browsers are so popular and how to set up the IPRoyal Proxy in VMLogin Anti-detect Browser!
What is the Anti-detect Browser?
The Anti-Detect Browser, also known as the Fingerprint Browser, allows users to manage a virtually unlimited number of accounts on any website. In Anti-Detect Browser, browser fingerprinting is highly customized. You can customize the OS, device, proxy server, UA, resolution, fonts, geolocation, time zone, kernel, language, memory, browser extensions and plugins, WebGL, Canvas, media device fingerprinting, and other information. Run an unlimited number of separate virtual profiles on a single computer so that you can manage numerous accounts for multiple websites simultaneously without account associations being detected.
Strengths of VMLogin Anti-Detect Browser:
VMLogin Antidetect Browser mainly provides users with an unlimited unique browser fingerprint environment. The environment of each browser will be displayed as a natural and native local setting, effectively preventing user accounts from being blocked. It applies to all browser businesses.
Separate Browser Environment
Creating a browser profile within VMLogin is equivalent to creating a separate virtual browser environment. Cookies, local storage, and other cached files are completely isolated from each browser file, and there is no way for browser profiles to leak information to each other.
Efficient Multi-Account Management
Within VMLogin you can utilize the import and export cookie function to log in to multiple accounts at the same time without passwords. Eliminating the need to manually enter account numbers and passwords also reduces errors and improves overall efficiency.
Browser Fingerprinting Protection
VMLogin Browser handles browser fingerprints in the most primitive way possible, by allowing websites to read "masked fingerprints" that are different from your real fingerprints, replacing the old method of preventing websites from reading any fingerprints.
Easy Browser Automation
Any repetitive tasks can be automated in VMLogin. You can use the Rest API within VMLogin, and other options include using third-party automation builders such as Browser Automation Studio.
Automating Business Workflows
Setting up business processes in VMLogin is easy and simple. With the ability to share and transfer browser profiles, you can easily control your team members' access to browser profiles. You can have the first assistant create the account, the second develop it, and then easily forward those browser profiles to your customers. All operations can be done in the same environment, avoiding any risks and hassles!
Why Choose IPRoyal as a Proxy for VMLogin?
Although the VMLogin browser controls browser fingerprinting to ensure that major websites do not associate fingerprint information and cookies with multiple accounts, the IP address is still an important factor in associating accounts. If you have numerous accounts with the same IP address, or if the IP address of an account is unstable and changes too frequently, then it may also lead to account anomalies.
Thus, choosing a stable and secure residential proxy is crucial. The reason for using the IPRoyal Proxy is simple – each of its IP addresses is a real and stable residential IP, which ensures that all your VMLogin profiles are no different from real Internet users. Here are the other merits of it:
1. More than 2 million proxies in 195 countries
2. Geo-targeting at the country, state, and city level
3. On-demand pricing with non-expiring traffic
4. Precise IP rotation ( up to 7 days per request)
5. Adorable price/value ratio and bulk discounts
How to Integrate VMLogin with IPRoyal Proxy?
1. First, download and install the VMLogin software from the VMLogin official website. Then launch the software and start creating a VMLogin account.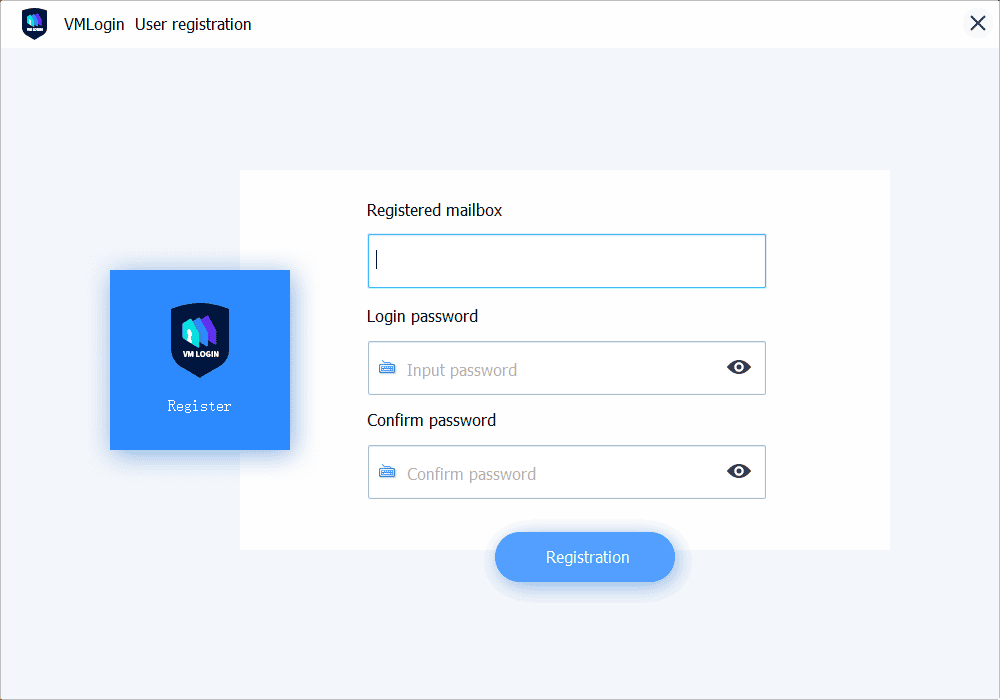 2. Purchase the required package on the VMLogin official website or contact customer service to activate the 3-day free trial. Then, open the VMLogin software. Click the "New browser profile" or "Create a new profile".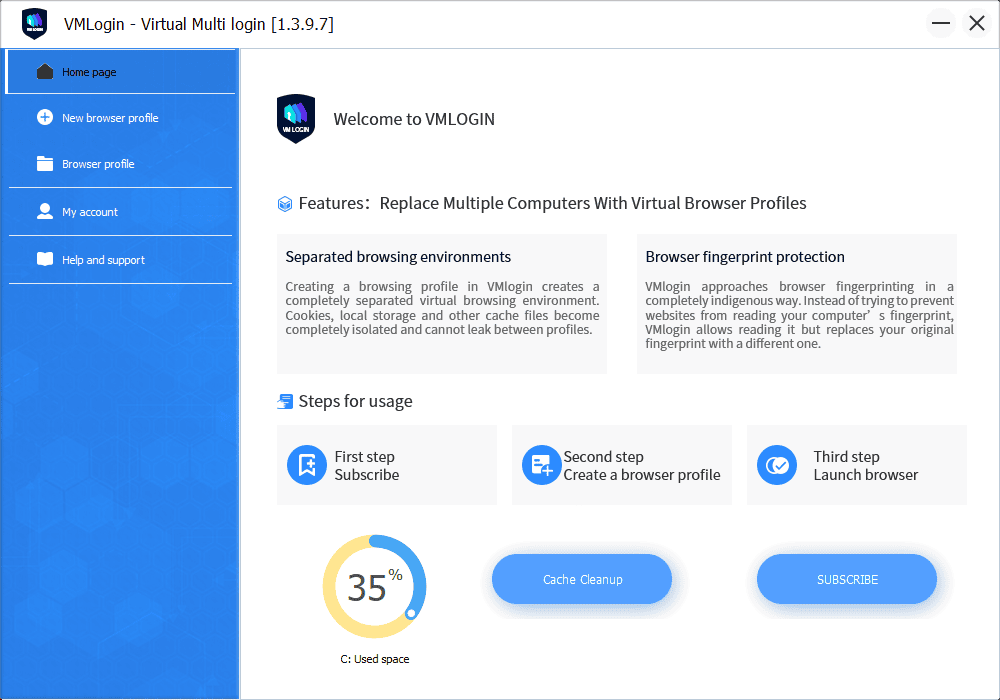 3. Here you can customize the browser fingerprints and set the proxy server.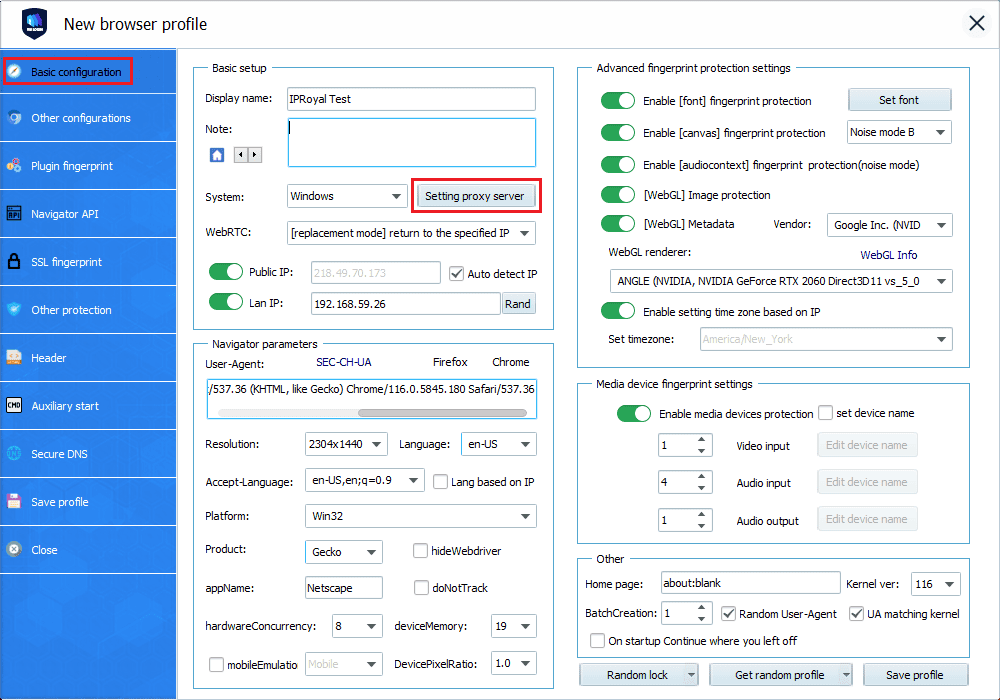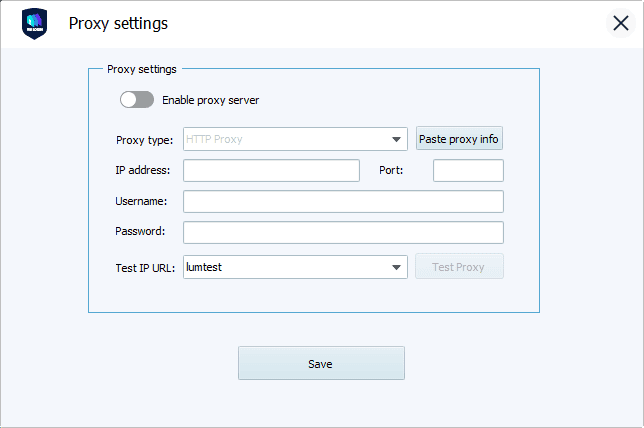 4. Before you do that, it's necessary to configure your proxies in the IPRoyal dashboard. Let's say we want to use high-end IPs from Amsterdam, Netherlands, that rotate on each request and use the HTTP protocol.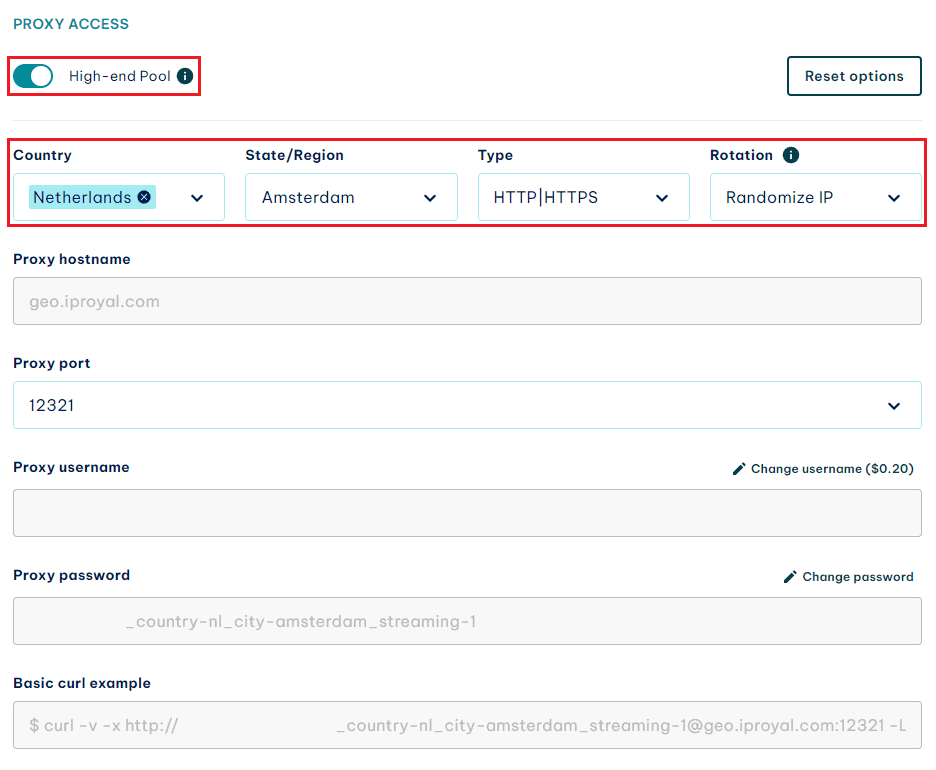 5. Once you've configured your proxies, copy the credentials from the IPRoyal dashboard to VMLogin as follows:
| IPRoyal | VMLogin |
| --- | --- |
| Proxy hostname | IP address |
| Proxy port | Port |
| Proxy username | Username |
| Proxy password | Password |
6. Please ensure that you turn on "Enable proxy server" and select the correct proxy type.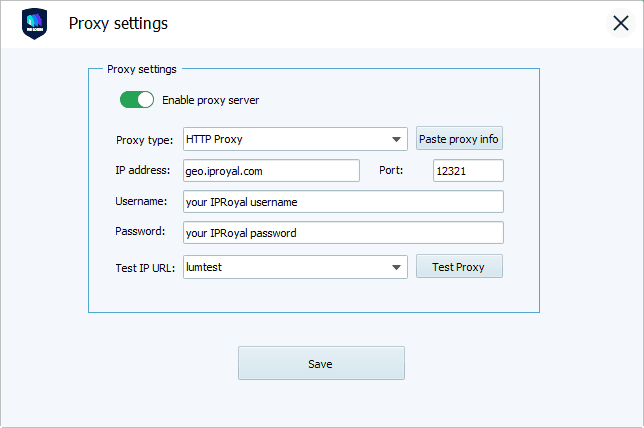 7. Once the proxy settings are complete, click "Test Proxy". If the settings are correctly configured, a new window will show the proxy IP, country region, and other information. Then save the proxy settings.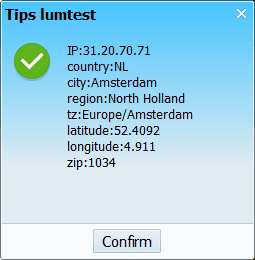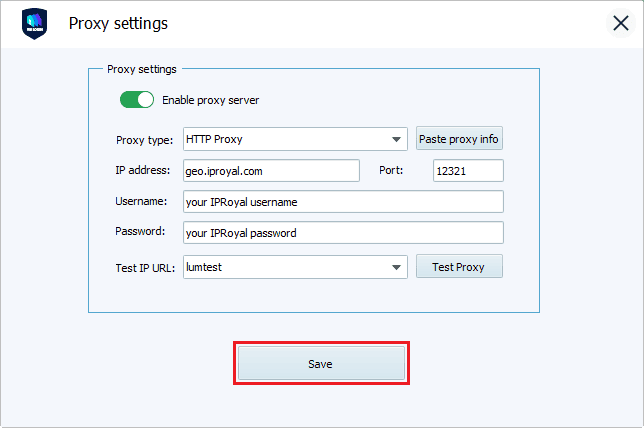 8. After all the fingerprinting information for your browser profile has been configured, you need to click "Save profile".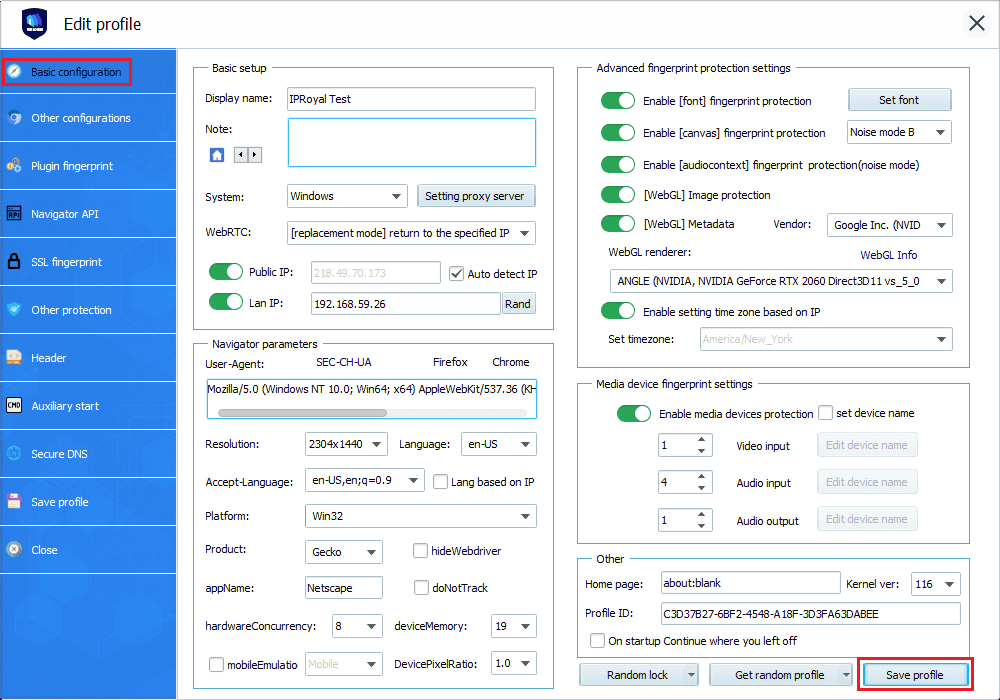 9. You will find your newly created browser in the browser list. Select the browser and right-click "Launch browser".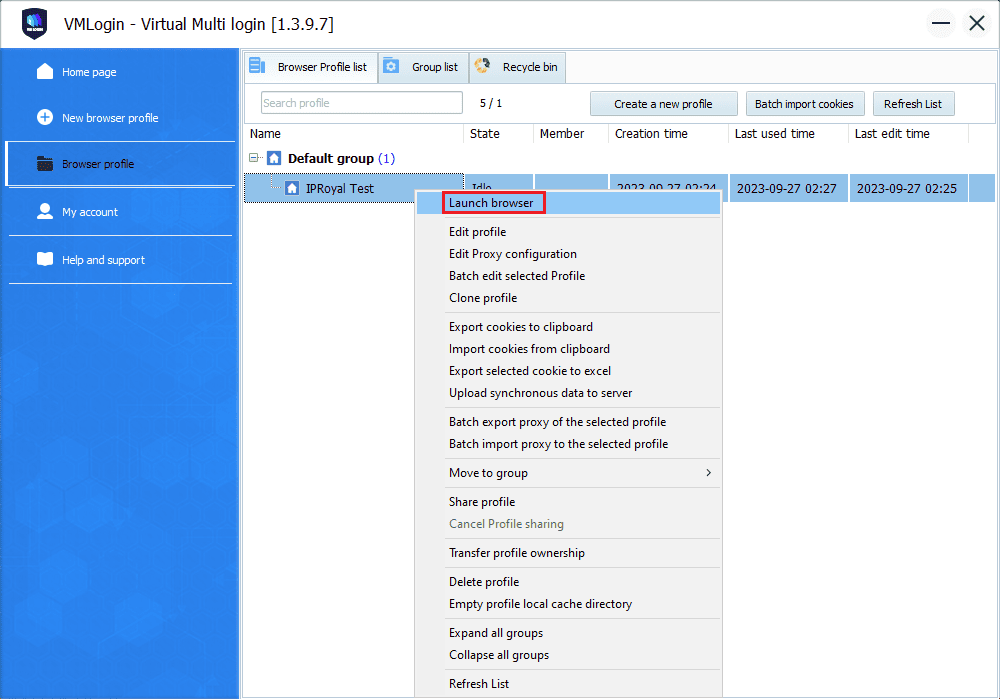 10. Finally, you can make sure your proxy is working by opening IPRoyal's IP Address Lookup in your VMLogin browser. Now start your VMLogin journey!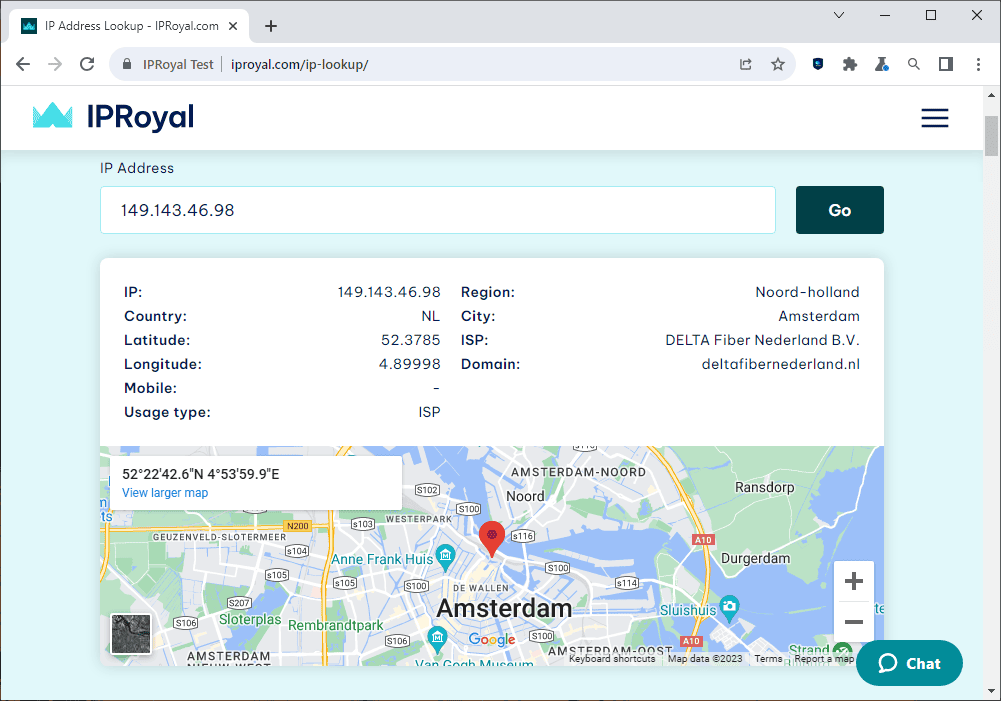 Conclusion
When you start using VMLogin and IProal Proxy, you won't have to worry about account association detection, access restriction, private data leakage, unstable IP, and so on. They will boost your online business!